California's fires are only getting worse, yet San Diego County is giving fire code exceptions and upzoning land without proper infrastructure for evacuations in what fire officials call 'a historic fire corridor.'
Rated a Very High Fire Hazard Severity Zone by CAL FIRE, since 1980 there have been 19 wildfires within three miles of Harmony Grove and Elfin Forest. Meaning, the community should expect to be threatened by a wildfire every 2 years on average.
Santa Ana wind driven fires typically begin east of the area and travel through Harmony Grove, to threaten Elfin Forest, San Marcos, Encinitas, Escondido, Carlsbad, Rancho Santa Fe, and other communities nearby. Eleven homes and 25 structures in Harmony Grove were completely destroyed in 2014's Cocos Fire.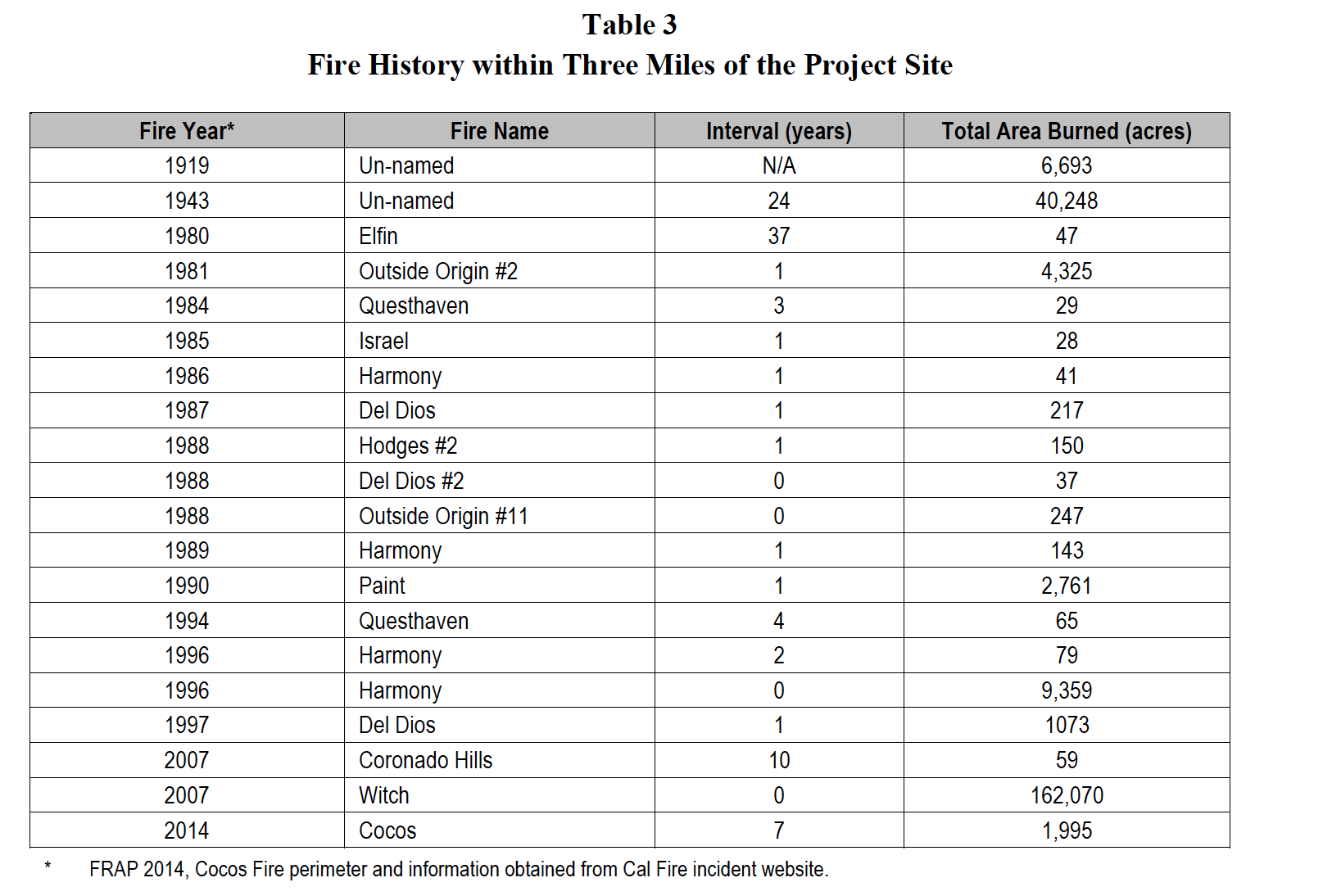 Wildfire Risk Analysis
The following are excerpts from the Harmony Grove Village South Wildfire Risk Analysis
Santa Ana Fire Scenario
The estimated fire travel time from Escondido to the proposed development site under historical average wind Santa Ana wind conditions would be 1- 2.5 hours. Fire starting more proximal to the proposed development site could produce much shorter run times. The east and south facing exposures of the proposed development would be most significantly impacted by this scenario.
On-shore Wind Driven Scenario
The Escondido Creek drainage/San Elijo Canyon lies immediately south-west of the project. This is a heavily fueled and steep canyon with converging drainages that pose significant fire development potential. Fire behavior analysis of this canyon indicates it is likely to present extreme fire behavior during critical fire weather episodes, and may burn aggressively from either onshore wind or offshore-Santa Ana wind condition. Extreme fire behavior would include development of fire whirls, intense energy release, long-range spotting, and high-intensity fire runs. In the case of an onshore wind scenario, fire could develop plume-dominated/fuel driven fire behavior and approach the proposed development site with extreme conditions and a wide front. This problem is exacerbated by the existence of approximately 40 legacy homes which are located in an intermix condition among these heavy fuels, immediately southwest of the project boundary. These properties off Cordrey Lane generally lack defensible space, has no Safety Zones, and are likely un-defendable against critical fire behavior. The potential loss of these homes may significantly contribute to fire intensity and fire branding immediately adjacent to the property boundary during high intensity wildfire.
Fuel loading immediately north-west of the proposed development is currently short grass, and the site is occupied by an abandoned dairy. This condition would currently shield the upper end of the proposed development from many fire effects under onshore conditions, but the entire proposed development site could be subject to intense fire brand cast, and fire would likely traverse chaparral slopes above and around the south end of the development site, threatening the development's perimeter. The estimated fire travel time from mid-San Elijo Canyon to the proposed development site under historical average onshore wind conditions would be 1-2.5 hours. Fires initiating in the area of the Spiritualist camp could be at the development's perimeter in minutes, but may not have sufficient run distance and burning time to develop dangerous fire behavior.
Wildland fuels adjacent to HGVS
Found on surrounding hillsides, heavy, continuous, old-age class mixed chaparral and coastal sage scrub averaging 12 feet in height, likely last burned in Harmony Grove fire of 1996, or an unnamed fire of 1943. Due to age and persistent drought, this fuel bed has a high dead biomass component. This area presents fire behavior potential for very high flame lengths (40-60+ feet), high thermal energy output, high rates of spread, and high to very high fire branding potential. The proposed development will abut this fuel bed. Fuel loading was estimated in excess of 40 tons/acre. All upslope areas within the proposed development site were found to replicate this condition.
Fuels next to Country Club Dr. single-access point
Found along the north edge of the property, Escondido Creek is a riparian area that is characterized by riparian vegetation, including significant presence of non- native/invasives, including tamarisk eucalyptus, and castor bean, and mixed native willows. This area presents fire behavior potential for high rates of spread, high-very high flame lengths (30-40 feet), and moderate to high fire branding potential.
Historic fire threat
Santa Ana winds are influenced significantly by terrain, which locally funnels and intensifies winds. The Escondido Creek/San Elijo Canyon corridor is such a location, and has been identified as a location of frequent return intervals for high intensity wildfire. This area is frequently termed a "historical wildfire corridor.
Harmony Grove Fire of 1996
Predicting Future Fire Trends
If recent wildfire events in the area are any indication of the future, Harmony Grove and surrounding communities are not only susceptible during "average" wildfire events, but are at considerable, and arguably catastrophic risk during higher intensity events (which are becoming more common in our region). Given that the backcountry is expected to experience drier climates, increased Santa Ana wind events, hotter temperatures, longer droughts, and increased abundance of invasive species, the risk of wildfire hazards will only increase in the future.
In adding more residents that can safely be evacuated, the risk to the proposed community is so high that it is seemingly not a question of whether this area will experience a catastrophic loss, but when.